Feb 03, 2021
In 2021 financial institutions are experiencing reduced revenue from their card portfolios as balances are paid down by consumers. Looking forward, identifying and implementing ways to stop revenue leakage and drive revenue lift will be critical.
IMPROVING CARD PERFORMANCE IN CHALLENGING TIMES
A few weeks ago, we flipped the calendar on 2020; putting behind us a year we would all like to forget, but in truth, it will be hard to do so. Many of the problems we encountered have carried over like winter from December to January in the new year. January 2020 started with 10 million more jobs than today, credit card balances were 9% higher, and bank deposits were about $2.5 trillion less; side effects of the reduction in consumer spending and loan activity at the start of 2021.
As a new round of federal stimulus works its way through Congress, financial institutions may experience reduced revenue from their card portfolios as balances continue to be paid down, and stimulus funds are again funneled into deposit accounts. Developing new approaches to generate revenue will become more challenging than ever. Identifying and implementing ways to stop revenue leakage and optimize opportunities is the clearest way to help offset the above. But finding the time and resources to do so will be challenging. So how do you keep the business moving forward, but find the ability to look back? Bring in the right partner who can find the value…quickly.
Recently, one of our clients, a major North American credit card issuer, was experiencing many of the challenges listed above. Our experts quickly went to work to address the client's stated priorities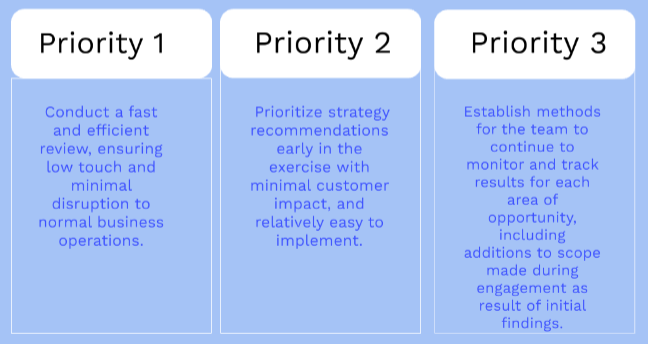 Areas identified during review:
Pricing leakage
Operational over-billing and errors
Incremental product cost reduction
Marketing efficiencies: targeting and fulfillment.
Loyalty program optimization
RESULTS: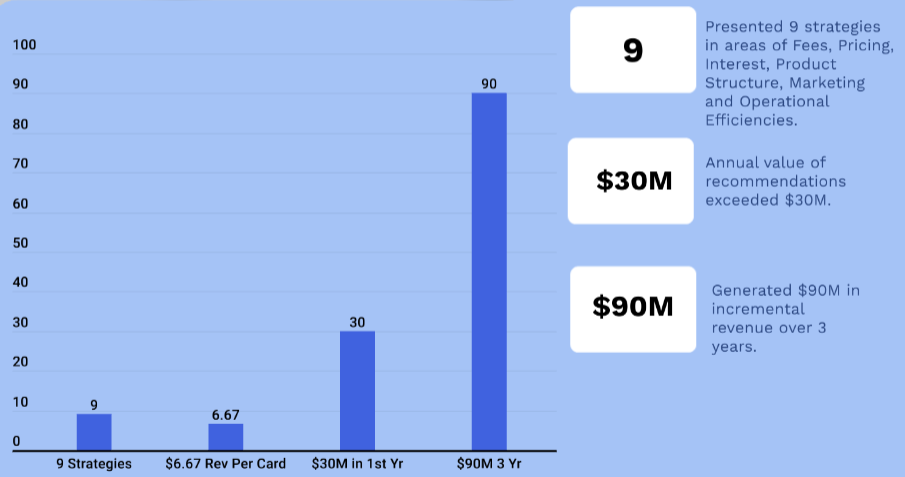 Credit Card Revenue Assurance: Low Touch with High Reward
Profit Insight's Revenue Assurance activities focus on identifying tactical, and sustainable, performance improvement opportunities from our clients' existing business activity, including:
Non-Interest Income

– Analyze current revenue streams and uncover leakage items including incorrect or less-than-optimal system settings and other items suppressing expected income.

Pricing and Margin Management– Validate and optimize interest and fee calculations, assessments, and collections and then we close the gaps.
Audit – Conduct in-depth review of systems and processes to ensure they are doing precisely what our clients think they should be doing.
Our ability to conduct engagements remotely, ensure a low touch approach and find actionable opportunities is critical to our clients and we deliver on this promise. Our compensation is driven by the value lift delivered to our clients, thus aligning our interests directly with yours. We are there when you need us to ensure each strategy is implemented optimally and in the shortest time possible.
Profit Insight's credit card performance consulting practice helps clients significantly improve the profitability of their lending business. We partner with clients to deliver short and long-term value by identifying, analyzing and implementing tactical solutions to significantly improve portfolio and business performance while limiting impact to their customers. Our consultants are recognized card industry experts and include former Federal Reserve officials, bankers, card operations and marketing executives with expertise in Efficiency, Product, Pricing, Finance and Operations.
Are you looking for a partner;
Invested in your financial and operating performance?

Who understands your business and how to achieve and measure results?

Has been trusted by clients worldwide for nearly 50 years?
Reach out, we are here to help.
A quick call can lead to a head start for a strong 2021 performance.